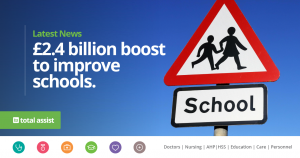 Justine Greening; the Education Secretary has stated that by 2021, the current government aims to create 6 million more places for students in schools across the UK. This has stemmed from a recent shortfall of 10,000 places across the country; the lowest in four years. One in five students have missed out on their parent's top choice of school, hence why funds are being diverted from repairs programmes into creating more classroom space.
Britain has recently become the home to some of the biggest families in Europe, reaching its highest level in five decades. The number of babies born into a family with three or more siblings in 2009 was 5.3% now increasing to over 9.3%. This has resulted in the government needing to increase school's resources and placements to enable all student can attend and therefore benefit from the system.
Funding
Expansions in select schools are in the pipeline to increase placements for students; this is taking nearly £980 million of the budget. £1.4 billion will be used to improve the condition of the schools with over 1,500 school building projects shortly underway.
Feedback
Mixed views have already been voiced towards the changes due to previous cuts and closures. Many have criticised the Department of Education's past failings in recognising the seriousness of funding problems for schools across the UK. An increased budget to £6.7billion has been advised by the National Audit Office to get all schools, in England, into an acceptable state of repair.
With current threats about schools having to close early due to staff cuts, head teachers have expressed their concerns about how these changes will add to the already stressed students.
References:
http://bbc.co.uk/news/education-39475391
http://www.dailymail.co.uk/news/articles-3199800/The-end-2-4-children-British-home-biggest-families-40-years-immigration-super-rich.html
http://www.theguardian.com/education/2016/apr/17/england-10000-gap-primary-schools-places