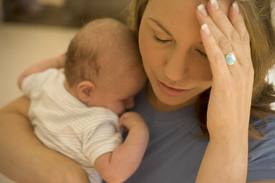 Mental health care for new mums overlooked by NHS
Parenting chairty The National Childbirth Trust has revealed that there are "huge gaps"  in support for new mothers suffering postnatal depression, with a mere 3% of clinical commission groups having a peri-natal mental health strategy in place.
Despite one in 10 mums experiencing postnatal depression, of the CCG's with no strategy in place, 60% said they even had no intentions of establishing support procedures.
National Childbirth Trust (NCT) chief executive Belinda Phipps told BBC News "While we found some areas with excellent care, too often we have found situations where there is no care, or very little care. If there are whole areas where GPs, midwives and health visitors have no training or time to dedicate to this vital service then women will not get the help and support they need. For many parents this will result in months of misery, damaging both family relations and children's well-being. And, in the most extreme circumstances, it will result in tragedy and loss of life."
Clearing up care
Part of the problem seemed to be confusion over who was responsible for this kind of care, with 15% of CCG's not responding to information requests, instead directing the charity researchers to local NHS Trusts or NHS England. Of the 193 NHS trusts asked about peri-natal mental health services, a staggering 54% said they did not provide this kind of care, with 17% not even replying.
The survey also showed that only 13% of hospital trusts had a team of specialists in place, with an additional 14% employing just the one specialist, often on only a part time basis.
NHS England's national clinical director for maternity and women's health, Dr Catherine Calderwood, said "Postnatal depression is a very lonely and distressing experience and it is important that women suffering from it receive the support and treatment they need. While across the country there are many good examples of high quality support for postnatal depression, the level of service is still too varied and local commissioners need to ensure that the support they provide for women meets the highest standards."