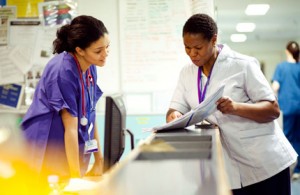 How much would you pay for a specialist doctor in a short staffed hospital?
Locum pay has come under fire this week as a Sky News investigation revealed that a bank nurse had been paid £1,800 to cover the May Day bank holiday this year. However, recruitment experts say locum wages are just the tip of the iceberg, and that locum staff are in fact "the unsung hero", with payment squabbles hiding the valuable input of specialist medical professionals.
Despite the NHS saying they wish to cut temporary staffing costs after spending £2 billion on locums during 2010/11, Grant Finn, CEO of Total Assist Group, explains how hiring locum medics on an ad-hoc basis can actually work out cheaper for trusts in the long term. "Health is seasonal. The winter months are busier, with hospitals full, whilst the summer months tend to be quieter. If full time staff were hired for the entire year, this would actually cost the NHS more, as they would also have to provide holiday and maternity leave, pensions and ongoing training, even during the quiet months." Many hospitals factor in being able to hire flexible locum staff for spikes in demand.
Claire Billenness, managing director of client solutions at HCL Workforce Solutions emphasises this point in the Health Service Journal, writing that an additional 20,000 nurses will be needed to meet rising demands, and that this could add £700 million on to the NHS pay bill. Advocating flexibility in NHS workforce planning, she writes "A defining feature of our national healthcare system is that we just don't know how many patients we are going to need to treat in any given 24-hour period, and what impact their individual needs will have on workforce demand. An obvious conclusion is that the system must be able to flex to meet that demand, yet whole teams up and down the country are instructed to stamp out the use of locums, despite stringent framework agreements being in place." 
Vital locum staff
Chris Wilford, senior policy advisor from the Recruitment and Employment Confederation also agrees with Mr Finn, stating that since NHS absence rates are on the rise, temporary staff are urgently needed to fill gaps, especially during peak times such as public holidays. "In an environment where the NHS is competing internationally for clinical talent and hospitals are facing acute shortages of specialist staff such as nurses, the government needs to wake up to how flexibility can add value to the NHS and deliver better care for patients," he said.
The Sky News investigation made claims that locum staff were a hazard to patient safety due to being unfamiliar with surroundings, however experts argue that the opposite is in fact true. Locum doctors and nurses are able to fill requirements and skills gaps at short notice in crucial specialist areas, such as intensive care, A&E and mental health, which can be life-saving. Geography is also a factor – with some hospitals harder to reach with only one in the local area, it is even more important that they have valid and qualified staff to hand to tender to any emergency that may arise. Some hospitals may also struggle to attract permanent members of staff, maybe due to location, and therefore rely on locum staff to help man the rota successfully.
An American 2011 survey unveiled that 85% of healthcare facilities used temporary staff, with 64% of locums involved in the study holding down full time positions as well as completing locum placements in their spare time, demonstrating professional dedication to patient care.
Ms Billenness continues by saying that locum staff are the "unsung hero", saying "They inject instant skills and experience lacking at the trust, hit the ground running and provide that much needed hands on clinical patient care, and the much needed respite for flagging substantive colleagues. It is long past time that the value of these highly skilled, efficient and effective professionals are recognised for the valuable role they play – not just for patients but in enabling the trust to fill skill gaps, meet minimum staffing levels and build a case for permanent solutions."