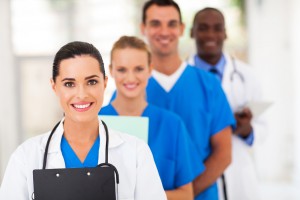 Working the night shift can be incredibly fruitful for your career, as not only can it help improve your clinical and diagnostic abilities, but as a locum doctor, you can also earn more money by being a night owl. Signing up for night work will vary slightly from the usual day job since it is usually quieter, and you may have to plan more deeply for your shifts, for example your meals and sleep patterns. Here are our do's and don'ts so that you can really get the most out of working nights.
Do:
Get into routine. Have a lie in during the morning and then an afternoon nap of at least two hours, so that you can get some deep sleep.
Treat sleep as vital. Prepare for your nap properly by investing in blackout curtains (or good old fashioned tin foil) or an eye mask as well as some earplugs. De-clutter your bedroom so that it is purely for sleep only to make it easier to rest in there.
Snack well. Water and fruit juice are ideal for fighting dehydration, whilst slow release foods such as nuts and dried fruits will also help keep you going for longer. Smuggling a cereal bar in your pocket is also a wise idea for munching on the go, although you should still try to have three square meals a day – the timings will obviously just vary.
Hand over properly. Make sure the evening shift flag any problem patients, time sensitive tasks and result collections to you, and then you in turn ensure you make detailed notes for when you hand over to the next shift.
Nap on your breaks. Getting your head down for between 20 – 45 minutes is the ideal time to leave you refreshed without the grogginess of coming out of a deep sleep.
Get involved with the team. Know who else is working, not only in case you need to ask questions but also to have a chat and help out if your department is quiet. Keeping busy will help keep you awake so helping out colleagues is ideal.
Take public transport home. If you do decide to drive, make sure you rest first as you will need to be focused to drive home in rush hour traffic. It may just be safer to get the bus where you can nod off if you want to.
Don't:
Run errands. Resist the temptation to get up early to go to the bank, or pop round your mum's once your shift is done to do the hoovering. Fatigue radically reduces performance so you need decent sleep to stay on your A game.
Food shop during your night shift rotation. If you have a week of night shifts, then do your food shop for the week beforehand. Going after a shift is usually pointless as you'll be far too tired and if you go earlier in the day you're cutting out on valuable sleep time.
Play computer games in your bedroom. Move the gadgets, the bedroom needs to be strongly associated with sleep to help you nod off during the day when your body wants you to be awake.
Let tiredness make you lazy. Cutting corners can be dangerous for both you and the patient.
Skip meals. Eating gives you the necessary fuel and energy that you will need to complete your shift, so make sure you eat and drink during your breaks to keep hunger and dehydration at bay.
[tagline_container type="one or two" link="https://totalassist.co.uk/availability/" title="Submit your availability today" second_line="to book in some night shifts" iconlink="only for type2″][/tagline_container]