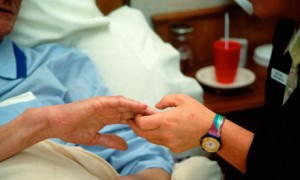 Dying patients receiving free end of life care could save NHS money
Macmillian Cancer Support has suggested that the NHS adopt a free end of life social care system, in a bid to provide more efficient care as well as save money.
The ideas put forward by the charity could potentially save the NHS £69 million per year on cancer patients alone, as currently half of people die in hospital, despite eight in ten claiming they would prefer to pass away at home.
Analysis shows that this means 180,000 people spend their last days in hospital, against their wishes.
Dying at home
The survey of patient feedback, official NHS spending data and interviews has led Macmillian to claim that by caring for patients in the community using social care and community NHS services instead of hospitals, the cost would be £340 million, meaning the NHS budget could save a staggering £345 million as the current cost of people dying in hospital is £685 million each year.
Social care is currently means-tested, but ministers are considering providing it to everyone at the end of life.
Macmillan chief executive Ciaran Devane told BBC News "We urgently need to reform end-of-life services in England. Every day around 100 cancer patients die in expensive hospital beds when they wanted to die at home. This is both morally wrong and a scandalous waste of precious NHS resources."
A Department of Health representative said "We want to make sure that people nearing the end of their lives can choose where to spend their last days and have more of a say on how they are cared for. We are currently reviewing how to improve the quality and experience of care at the end of life and the system for funding it."