As a doctor, finding balance between your home and social life with your professional dealings can be tricky to navigate, especially when you consider on call shifts, working through the night or travelling to different spots of the UK. Working as a locum doctor can massively help just by giving you increased flexibility, allowing you to pencil in your schedule as you see fit, however we know it's not always that simple. With 45.8% of doctors experiencing physical burnout in 2012, we know than managing your calendar is vital.
Why not check out our advice for how to achieve and maintain a balanced work rota and corresponding home life…
At work:
Try and take a step back from chit chat during your working hours. Socialising is a great stress buster and can be a real relief on a hectic day, however it can also act as a distraction meaning it takes you longer to get your tasks done. Postpone the mingling for after work drinks.
Find some quiet time. Make sure you take some time out briefly to review paperwork, patient charts, return phone calls, etc so that nothings builds up. If you keep pushing these tasks aside, it'll only grow so give yourself some alone time to tackle them quickly.
Make to-do lists. These can help set out the goals you wish to accomplish over the course of the day, week or month. Not only can you juggle the priority of different tasks by ranking them, but it also feels so satisfying when you cross them off.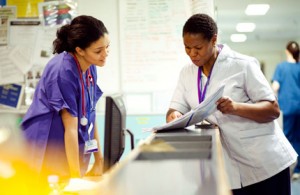 Learn to say no occasionally. Being over committed can be your downfall if you try and take on too much as there is not always physically enough time to do everything, and this will only cause you stress.
Take a break. Stopping to have your lunch, or pausing for five minutes to stretch out can really make all the difference to your mood and help you to refocus and get refreshed for the tasks ahead.
At home:
Get up an hour earlier. You'd be surprised at how much more you can fit in to just one additional hour. Over the course of one year, that hour a day will add up to an extra 10 weeks! Use the time to run errands, exercise or unwind.
Make the most of days off. Avoid work emails and calls like the plague and try not to plan the next work day. You will be all the more focused and ready to go if you have had a sufficient rest without work worries.
Set your clocks five minutes early. This simply helps keep you on time and can decrease stress in the long run, whether you are dashing off for a dinner date, or getting to the bank before it closes.
Learn something new. Spend your spare time taking up a new skill or hobby outside of medicine. The more well rounded you are, the more satisfied you will be both professionally and personally, so visit the farmer's market you've been meaning to go to for weeks, or finally book yourself in to that new dance class down the road.
Embrace family and friends. Catching up with relatives and close friends is always an occasion to smile and will most definitely help you unwind properly.
What are your top tips for achieving a work / home balance?
[tagline_container type="one or two" link="https://totalassist.co.uk/doctors/registration/" title="Register today" second_line="for more flexibility at work" iconlink="only for type2″][/tagline_container]