Technology helps GP's and CCG's collaborate to fine tune services
Technological advances are slowly but surely making their mark within medicine, but not only with the impressive boosts in treatment and management options – technology is even now having a hand in speeding up the diagnosis and analysis of patients' symptoms, acting as an aid for GP's. Interoperability is medicine's new buzzword.
INPS has recently created Vision,a new tool that enables different clinical systems used by GP's to collaborate, so that information can be shared and spread across different medical platforms. Features included on Vision are a task manager, online appointments, e-prescriptions, prompts, decision making support, tracking patient responses and data entry.
How can Vision help?
With an array of skills, implementing Vision could hold numerous benefits for both GP's and CCG's, especially in the capacity of working together. CCG's will be able to be constantly in touch with all of their clinics, able to send out information to everyone easily regardless of what system the clinics may use. A central dashboard also allows CCG's to collectively view GP information, giving a bird's eye view of which clinics are struggling and where, so that the appropriate support can be given. Changes to pathways can be evaluated and changes made if things aren't working out as planned.
GP's can also reap the benefits, as Vision can speed up the flow chart diagnosis process as well as offer prompts to analyse symptoms and test results, even going as far as to suggest the next step in the treatment pathway. Admin duties are even streamlined, with referral forms easily generated. Clarifying pathways should enable GP's to act sooner and also stop unnecessary referrals clogging up the healthcare system.
There are currently 60 Vision pathways that have been developed, and this includes NHS healthcheck, chronic kidney disease (CKD), diabetes, colorectal cancer, wound care and the Unplanned Admissions DES. Eight of these will be piloted this year according to the Health Service Journal.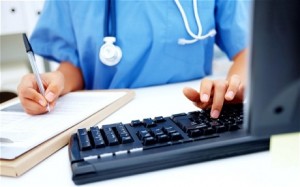 Gaining popularity 
GP Dr Jon Behr, who worked on the CKD pathway for Vision, said "Vision was an opportunity to improve diagnosis and management of a condition that is not particularly well managed at the moment. If you can give GP's an easy solution – just click this thing in front of you and you can improve the patient's outcome – they will go for it."
Phil Kozcan, a GP and chief clinical information officer for UCL Partners said "The question for GP's is how well does a programme integrate with their existing system. If you have a tool like this that is very closely integrated, they will use it." 
At £300 per practice, Vision is already remarkably cheaper than some payroll programmes, making it more accessible. Offering support with clinical decision making with prompts is a really unique feature for GP's, aiming to reduce the time slogging through algorithms and flow charts so that more time can be spent talking to the patient.
Will it work for the future?
Moving forward, there is also plenty of potential for Vision to continue having an impact on healthcare. Once the system has been tweaked for mobile devices for example, it could then be utilised for remote care. It could even act as a patient tool, providing access to patient-friendly results summaries to up patient involvement and engagement.
Ciaron Hoye, from Birmingham CrossCity CCG who is piloting three of the Vision pathways, said "It's a massively different way of thinking. This is a radical change in concept and approach."