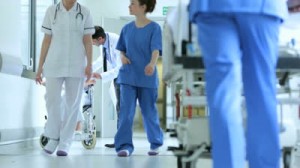 Our Head of Client Services explains the recent on-surge in locum work
The summer months have plenty to make us smile – ice cream vans, decent BBQ weather and lighter evenings to name a few, however probably the most important factor for working locum doctors is the sudden boom in locum shifts. All departments and all grades are promptly called upon for an abundance of positions available across the width and breadth of the UK in literally every NHS trust. So why the explosion of locum demand?
The first week in August sees the changeover of doctors, as new FY1's enter their first hospitals with a paid position and a degree mounted on their bedroom wall. The influx of recently graduated doctors happens at the same time, across the entire country every August, causing insurmountable pressure on hospitals. HR and medical staffing departments have to dig deep to negotiate the minefield of paperwork and admin needed to organise the new workforce, ensuring the individual's documentation is uploaded correctly onto the system and that rotas are scheduled with eagle eyed vigilance.
One of the key aspects that depletes a hospital's resources are the necessary induction days for new staff. Consultants and registrars from all wards will be tied up showing the FY1's their new working environment and the processes and policies involves with the hospital. Although an important task, it does take the doctors away from the patients, meaning that locum staff are essential during this period – not only in the run up to help free up time for planning and admin, but also during the induction period, so that patients can still receive the high quality of care that they deserve, without hospitals worrying about being short staffed and which doctors are covering where.
Continuing dedicated service
At Total Assist Group, we have been actively encouraging our contract and highly valued clients to give as much notice as possible of their requirements during this period so that we can be as on the ball as we can in providing suitable staff and ensuring that there is no disruption to services. We recognise the importance of demand management and look to help our clients realise cost saving efficiencies, whether it be through smarter rota management or the introduction of permanent recruitment, which may provide substantial savings. We live in leaner times and with cost saving targets across the NHS, any way we can provide our clients with the value of our experience is often gratefully received.
In the run up to changeover, we undertake marketing strategies ensuring our doctors can provide us with their availability for locum work well in advance, so we can act readily to our clients requirements. We strive to provide a speedy turnaround to really give our clients one less thing to worry about, as we appreciate what a hectic time this is for all hospital staff. Total Assist Group provides quality, high calibre locum staff to ensure the smooth running of hospitals, keeping the patients as the number one priority.
[testimonial name="Toby Colley" who="Head of Client Services" imagelinks="https://totalassist.co.uk/wp-content/uploads/2014/07/Toby-1-e1406714551521.png" vertical="no"]"As Head of Client Services, I am responsible for business development, strategic planning and I have overall responsibility for the supply and sustainability of our services to our clients. I have been in the industry for 15 years, so please get in touch for any advice or help with your staffing requirements."[/testimonial]