If you fancy a combination of both clinical and laboratory work, then a career within the pathology speciality could be right up your street as it offers opportunities within a research environment. Pathology is used to provide an understanding of the process of disease, with a number of main pathology specialities as well as even more sub specialities within those, so you can really fine tune where your interests lay and where you want to develop your skill set. All jobs in this field however require a broad yet detailed knowledge of medicine.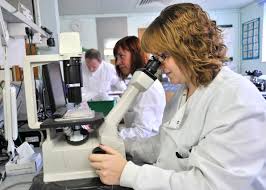 Chemical Pathologists:
Chemical pathologists have a senior laboratory position where they direct developments, ensure the quality of results and work with other clinicians to carry out diagnostic tests. They also operate at least two specialist outpatient clinics.
Haematologists:
Haematologists undertake the care of outpatients and inpatients, provide an advisory and consultancy service to all hospital specialists and general practitioners, and manage diagnostic laboratories. They provide clinical interpretation of laboratory data and morphology of blood and bone marrow specimens.
Histopathologists:
Histopathology is the diagnosis and study of disease by expert medical interpretation of cells and tissue samples. The specialty determines the cause of death by performing autopsies and is integral to cancer management through staging and grading of tumours.
Medical Microbiologists:
Medical microbiology and virology involves the diagnosis, treatment and prevention of the spread of infection in hospitals and the community. Both these specialties are laboratory-based, but make a major contribution to clinical infection management. They therefore require clinical skills, as well as laboratory knowledge. In medical virology, the focus of skills and knowledge relate to viral infection.
Key skills include:
Good decision making and time management
Attention to detail
Work from own initiative
Team player and good communication skills
Ability to accept new ideas
Manual dexterity and hand-eye coordination
Excellent analysis and interpretative skills