Decked out in scrubs and beckoning for a scalpel may be one of our most iconic medical images when thinking about doctors, yet on a more serious note, opting to become a surgeon could provide you with a hugely challenging yet rewarding role, where high dexterity allows you to have a practical role in fixing people's health problems.
With a vast array of specialities and sub specialties that you can train in, surgery is an extremely competitive and demanding area of medicine with a complex training route, depending on which area you want to focus your skills on.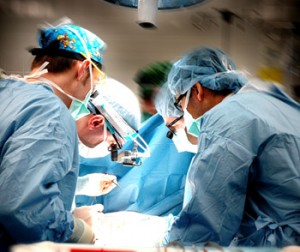 Most surgical work takes place within hospital settings and as well as performing operations, surgeons will also undertake ward rounds, outpatient clinics, administrative duties and teaching. Surgeons work within multi-disciplinary teams comprising for example nurses, anaethesitisits, radiologists and many others.
Is this speciality for you?
For a promising career in surgery, you can train in one of the following specialist fields (which all also have their own related sub specialities that you can explore):
Cardiothoracic Surgery
Neurosurgery
General Surgery
Oral and Maxillofacial Surgery
Plastic Surgery
Otolaryngology
Paediatric Surgery
Urology
Trauma and Orthopaedic Surgery
If you wish to be a successful surgeon, then you should have these key attributes:
Sound medical knowledge
Good hand-eye coordination
Ability to cope under pressure
Strong communication skills
Able to work well within a team environment
Knowledge of physiology
Good diagnostic skills
Ability to manage a wide range of conditions