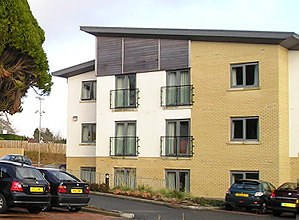 Client Account Manager Keith Mawdesley answers your frequently asked questions about locum accommodation
It's natural to feel apprehensive before beginning your first locum placement, especially if you have decided to tackle a hospital outside of your local area and in a different part of the UK. One of the fantastic aspects of locum work is your freedom to travel, and the ability to earn money as you explore up and down the country.
No matter what NHS trust you will be working in, or what hospital you may be placed at, accommodation can always be arranged, giving you the flexibility to spread your wings and sample an array of exciting working environments.
Here I answer your accommodation FAQ's so you can put your mind at rest…
1)      Can any locum doctor have access to accommodation?
Yes. Regardless of how near or far away you live, whether you are working for one night or six months, or whether you are a junior FY1 or a senior consultant; Total Assist Group can arrange accommodation for you.
2)      Do I have to pay for accommodation?
You will usually have to pay for your accommodation, however you will receive a reduced rate, paying from as little as £10 per night. This would apply to on site accommodation; however B&B stays can also be subsidised or applicable for a reduced rate, especially if you are staying for a prolonged period.
3)      Will my family be able to stay with me?
This tends to depend on your grade. Junior and middle grade doctors will only be able to get accommodation for themselves. If you are a consultant, family accommodation can be discussed on appointment, as I may be able to provide a flat or house either on or off site.
Remember:
As a Client Account Manager, I visit all of the NHS trusts and hospitals that I work with, so once you have your placement booked, I will be able to help you get settled in nicely. The main goal is to get you being productive and seeing your patients as soon as possible, so extra details such as accommodation can be dealt with easily by me and the team, taking that additional weight off your mind. I'll be able to give you all the details and directions you need for a smooth arrival, ensuring you begin your work in the right frame of mind.
[testimonial name="Keith Mawdesley" who="Client Account Manager" imagelinks="https://totalassist.co.uk/wp-content/uploads/2014/06/KeithMawdesley-e1404918190841.jpg" vertical="no"]"I have been working for Total Assist Group for two and a half years now, and directly with the Client Account Management team for two months. I look after hospital trusts around London and the Home Counties, so get in touch if you are looking for locum placements in these areas."[/testimonial]
[tagline_container type="one or two" link="https://totalassist.co.uk/doctors/registration/" title="Register today" second_line="to explore the UK whilst you earn" iconlink="only for type2″][/tagline_container]