Being able to add locum work as another string to your medical bow is extremely useful and is definitely a plus point on your CV. Not only does it demonstrate that you are a fast learner, willing to get stuck in and learn new hospital systems and processes quickly, but it also reflects that you are an ambitious hard worker – either seeking more experience in different departments or specialties, or striving to boost your pay packet with the attractive higher rate of pay locum doctors can put away for a rainy day.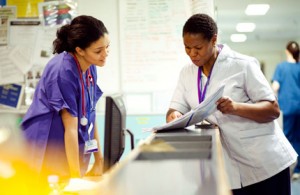 Despite the advantages, your first day at a new placement can be daunting and nerve-wracking, especially if you have never undertaken a locum position before. Anaesthetist Matthew Coghlan advises that "Locum work should be like any work you do. Approach it as a professional, work within your field of expertise and ask for advice/help when you need it. Don't compromise yourself because you are temporary, but realise you won't get the same respect as permanent staff." 
New scenery 
One way to combat this is by monitoring the ward where you are working, and ensuring that you make yourself invaluable to your new team. Not only does this promote your chances of extending your placement, but it will also help you settle in. Hospital worker Michael Levis agrees, saying "know your environment completely."
"Locum work can be highly disorientating, and your accustomed 'normal' gets turned upside down. Keep your practice basics uppermost in your mind as you approach your work. Talk to your nurses, run some scenarios by them and see how they respond. Tread carefully. As one who has done both EM and anesthesia locums over the years, you have to keep your antennae wiggling!" he continues.
Top five tips for your first day 
1) Get your own set of scrubs asap. You are going to want to make sure that you have some in your size to hand.
2) Make sure you have photographic ID or your agency ID badge with you when you start.
3) Ensure you get an authorised claims form if the hospital is paying your travel expenses, and check where you can park legally – you don't want to earn yourself a parking ticket on the first day!
4) Take a packed lunch – you don't know what the canteen is like or its availability and prices, so it's always safer to have your own food
5) Bring your own roll of micropore with you