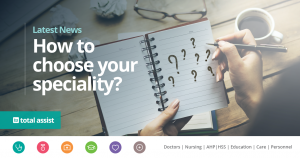 Working in the medical industry has incredibly varied and diverse career paths with so many different specialities and sub-specialities to choose from. With such a wide array of options, you are bound to find your place in the job market.
One of the recommended methods of helping you decide which speciality you should adopt involves working your way through the following three stages:
1. Self Exploration
Many different factors are going to influence your final decision, and these can be related to the actual job role or linked to more personal reasons. You may want to consider whether you prefer clinical or non-clinical work, how much you enjoy teamwork and also what ratio of patient interaction you like best.
Obviously, you are going to want to consider family commitments and how you want to manage your working patterns and shifts, but it is also worth being honest with yourself about what your strengths are, what skills-set you have and what you enjoy most.
2. Option Generation
You shouldn't write off specialities because of previous bad experiences or because you don't know too much about it. Make sure you find out more information about any and all options available to you which will mean you have a more thorough understanding of what you are potentially getting involved in.
Even if you think you have made a decision, make sure you challenge yourself and look at the pros and cons as you don't want to settle on a speciality just because you know it best at the time.
3. Implementation
Once you have made a firm decision, you need to get organised so that you can get yourself a relevant training post. To maximise your chances, all you put into making your choice can now be used to demonstrate understanding of commitment and enthusiasm for the speciality. Some medics find individual CV and interview coaching skills can be helpful in improving applications. It may also be worth getting stuck in to some events, conferences and lectures to further demonstrate your interest and dedication now that you know your speciality to focus on.
To also help find your speciality, register today with Total Assist to gain access to the latest jobs and our dedicated recruitment team who are on hand 24/7. Visit: www.totalassist.co.uk/doctors/registration or call 01708 388 099.
You can also receive up to £200 if you recommend a friend to Total Assist. Whether they are in the medical, healthcare, education or personnel industries, you can receive a referral bonus for every friend you recommend. visit: www.totalassist.co.uk/recommend-a-friend Terms & Conditions Apply.