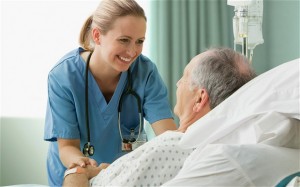 Once you have secured your locum placement, it is really important to ensure that you make a good impression once you start work. If you enjoy the hospital environment and location, as well as the workload, then it is highly likely that you will want to get booked there again, or even get your current position extended by a day or even a week if possible. As a Recruitment Consultant for Total Assist Group, I've received plenty of feedback from both hospitals and candidates about what department consultants look for in a high quality locum doctor. Here is my advice on how to make a fantastic first impression when beginning a placement as a locum doctor.
Get noticed
1) Be nice. This may sound completely obvious, but it is easy to underestimate sometimes how frazzled the permanent staff around you can be. Normally hospitals call in locum doctors when they are short staffed, or struggling to meet patient demands, so bear in mind the current full time staff have been beavering way in very trying conditions before your arrival so they themselves might not be in the best of moods. Don't judge a book by it's cover however, and instead take an active interest in the ward environment and what needs to be done to ease the escalating pressures. Just by being reasonable, friendly and nice, you'll be in the hospital good books.
2) Be generous. Take the first step in reaching out to colleagues. Whether you bring a cake in as a Friday treat, or ask you colleague for coffee on Monday lunchtime, small gestures go a long way to integrating yourself with your colleagues.
3) Be on time. Being early for your shift is vital, and also gives you valuable time to adjust to your new surroundings and prepare yourself for the work ahead. As previously mentioned, locum staff are usually in demand when hospitals are feeling the heat, so arriving early will look like a blessing to pushed and overwrought permanent staff – especially if you do it for every shift you have booked.
4) Work hard. You are only there for a short time frame, so you don't always have as many opportunities to get your name and work noticed by hospital bigwigs. Don't take over the time limit on your breaks and make sure you take your fair share of the workload – you could even offer to take on some teaching if you are in a position to do so. Show the hospital that you are the right locum for the job and they will look for your name again when future posts become available.
5) Accept invitations. Although money is a main motivator for many people, there are more advantages than that to taking on locum work. If you get asked to go out for a drink or a meal by colleagues, then say yes, as you will undoubtedly see more of and learn more about the people and places you are working at. This can also give you a deeper insight into the patient demographic which is useful to boost your clinical knowledge.
6) Do your admin correctly. Nowadays, paperwork is a huge part of any job and the same can be said for locum doctors. It's important that you fill in your timesheets correctly and promptly to enable the hospital as well as ourselves to process payments properly, so by being efficient you will stand out as someone who is reliable and trustworthy.
[testimonial name="Ross Jenkins" who="Recruitment Consultant" imagelinks="https://totalassist.co.uk/wp-content/uploads/2014/06/Ross-e1407945767732.jpg" vertical="no"]"I've recently joined Total Assist on the medical and surgical desk and I am mainly recruiting for HO and SHO. I have a whole array of locum shifts, short term, long term and weekends. If you are not looking for locum work but know somebody who is, please feel free to contact me."[/testimonial]
[tagline_container type="one or two" link="https://totalassist.co.uk/availability/" title="Submit your availability today" second_line="to partner with a dedicated recruitment consultant" iconlink="only for type2″][/tagline_container]