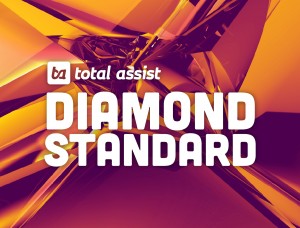 Recruitment specialists, Total Assist have been awarded the Neuven Diamond Standard for continually raising standards of compliance across sectors served in the supply of professional, locum and temporary staffing.  This was the accolade given by independent auditors, Neuven, as a result of a recent file audit.
Highly effective compliance activity
Total Assist provides temporary and permanent staffing to the Medical, Nursing, Education, Social Care, Allied Health Professional (AHP), Health Science Services (HSS) and Personnel sectors.
All services are supported by highly effective compliance practices which ensure the rapid and efficient placement of locums and other sector professionals, quickly addressing specific staffing needs as they occur.
Steve Kinealy, Compliance Director for Total Assist said;
"The importance of accurate and robust compliance processes cannot be overstated.  Securing the Neuven Diamond Standard is a result of actively seeking ways of improving compliance across all of our Nursing, Med Locum, AHP/HSS and Non-Clinical divisions and as such is a great achievement.
However, we are further encouraged by this award and will of course continue in our aim of making the practice of compliance as effective, comprehensive and straight-forward as possible for both clients and candidates alike."
Total Assist, founded in 1999, is one of the UK's most experienced specialist recruitment agencies. As a key provider of nursing and medical locum personnel, Total Assist is proud to be an active part of all major NHS commissioning frameworks.
To find out more, and to discover how Total Assist can help you, whether you are a professional looking for job opportunities or a commissioner seeking temporary, locum or long-term staffing solutions, contact Total Assist today on:  01708 388 000